Home Workouts to Keep You Fit in 2021
By Sandra Bolan
Dust off your Jane Fonda VHS tapes because sweating it out at home is once again the hot fitness trend.
The surge of at-home workouts was facilitated by the pandemic, but for people with limited funds, a hectic schedule or are uncomfortable in a gym, the choices have never been more vast. Even celebrity trainers have moved online, giving us regular people the opportunity to train in a Zoom box right beside Hollywood A-listers.
The biggest problem is no longer having time to get to the gym, but picking a workout. So the first thing you need to do is decide what style of workout you want to do – strength, HiiT, yoga, pilates, or a fusion of them all.
The second consideration is space. By now, you've already converted one or more rooms in your house into office or home school space. Do you have the ability to transform another room into a gym for 30 to 60 minutes a day?
If not, no worries. The living room is the most popular place to work out, followed by the bedroom and office. Some people even use the kitchen or head outdoors.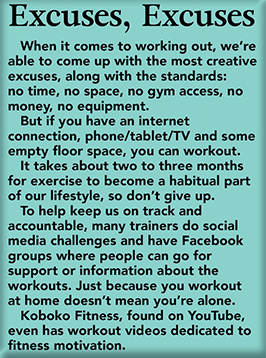 Next, do you have any equipment buried beneath piles of laundry or at the back of closets? Pull them out and dust them off. Buying any sort of workout equipment is still a challenge as everyone seems to have built their own home gyms at the beginning of the pandemic, and supply is limited.
If you don't have any equipment, don't worry. There are many body weight workouts available that will torch calories and get your body summer-ready.
Gym memberships have long been a reason for people to not join, hence, not workout at all. There are a ton of workout apps that range in price from free to nearly $100 a month. Many of them offer free trials. Before you commit, try it. 
Free trials are also a great way to see what types of workouts and trainers you like.
You can also wing it and create your own workouts. But let's be honest. It's way easier to follow along and you know you would never program 50 burpees into your workout. But a trainer would.
Popular Workouts
BBG is s popular workout that incorporates low-intensity cardio, HiiT and strength training, all of which are roughly 30 minutes long. BBG also has a 12-week program. Cost: $20/month. Name: Sweat Fitness App for Women
Hot Body Sweat Guide is an eight-week, e-book-based cardio/strength program for all fitness levels. No equipment required. Cost: $49.99 www.lovesweatfitness.com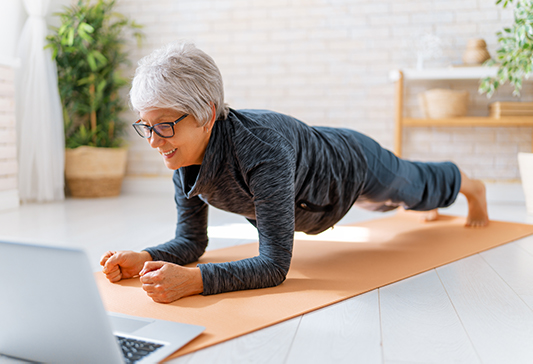 Beachbody has been around since 1998 and offers workouts such as P90X, Insanity, PiYo and 21 Day Fix, to name a few. Some are still available on DVD but also via its app, Beachbody on Demand, which costs $99 annually.
Peloton is known for spin classes, but it's branched out to include yoga, strength and bootcamp classes. Those high-octane spin classes also no longer require you to buy the Peloton branded bike. So dust off your old spin bike and join in. Cost: $12.99/month
LesMills, which many gyms utilize, now has an app, LesMills on Demand. So if going to the gym for your weekly session of BodyPump or BodyFlow is not for you right now, do them at home. Cost: $9.99 to $14.99/month
You can learn to do just about anything from YouTube, but it's also where you can find just about every type of workout imaginable – for free.
Some of the more popular workouts/instructors include: MadFit (HiiT), Blogilates, BodyFit by Amy, SuperherofitnessTV, Popsugar Fitness, Joanna Soh, Michelle Lewin and Jessica Smith.
Mirrors
A new fitness trend is the mirror. There are a variety of products on the market ranging in price from $1,000 to $3,000 plus the monthly cost of the app and/or live classes. You'll need space on a wall for a full length mirror and room to do the workouts, some of which require equipment.
Not every workout is right for every person. The best workout is the one you want to do and one that helps you achieve your goals.