Since 1947, the Chamber of Commerce and the U.S. Post Office in Loveland, Colo., have sponsored the Loveland Valentine Remailing Program. 
Each year, hundreds of thousands of valentines are packaged in larger envelopes and sent to volunteers in Loveland to be hand stamped with the city's cachet – a special mark or seal. The valentines are then remailed to the senders' loved ones. Millions of valentines from all 50 states and over 120 countries have been remailed from Loveland since 1947.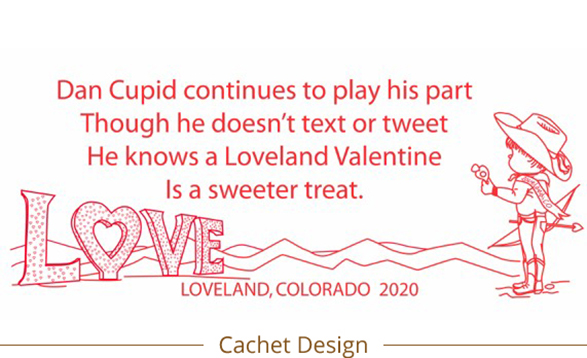 The Chamber and Visitor's Center becomes an official U.S. Postal Service substation during the remailing program. Known as "The Valentine Station," the substation has a resident postmaster during the entire remailing program.
Every year, the Chamber of Commerce holds a contest for local residents for the winning verse and design. After the winners are chosen, the verse and design are combined to create the "Official Chamber of Commerce Loveland Valentine."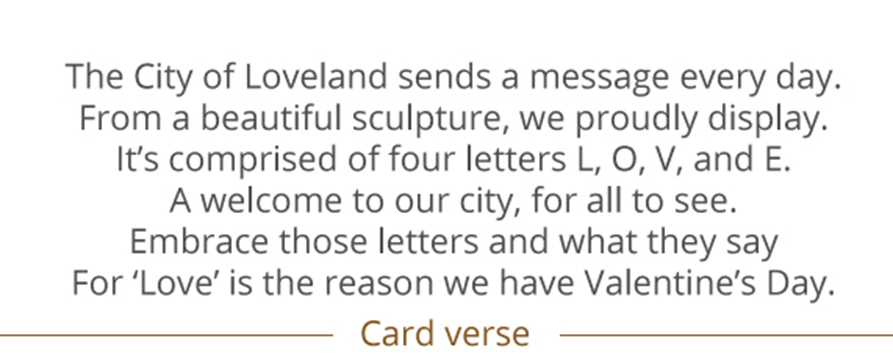 Spread some love and send your valentines to loved ones through the sweetheart city.
Follow these instructions:
Address the valentine with recipient's address
Stamp the valentine
Place the valentine in a larger, first-class envelope
Stamp and address the larger envelope to:
Postmaster – Attention Valentines
446 E. 29th St.
Loveland, CO 80538-9998
Important Dates for the Loveland Re-Mailing Program:
Feb. 1, 2021 International Mail Deadline
Feb. 7, 2021 U.S. States Deadline
Feb. 10, 2021 Colorado Deadline
* Mail for these destinations may be sent after the deadline, but it will not reach the recipient before Valentine's Day.
All valentines sent through The Loveland Valentine Program before or on February 7th will be postmarked and mailed on February 7th.
Every day after February 7th, the valentine will be postmarked on the day it is recieved.
For questions about the remailing program, call the Loveland Chamber at 970.744.4792 or visit the website at http://www.loveland.org.