Student scholar Emily Stone represents Carroll Electric Membership Cooperative as its first recipient of the statewide Walter Harrison Scholarship since 2013.
In March, Stone was selected as Carroll EMC's semi-finalist for the prestigious $1,000 scholarship. She was recently named one of 12 recipients for this year's award after being judged among 76 other semi-finalists from 41 EMCs across the state of Georgia. Recipients were chosen based on their academic achievements, extracurricular activities and their service to the community.
The scholarship can be applied to academic expenses to any accredited two- or four-year university, college or vocational-technical institute in Georgia to help offset the rising costs associated with obtaining a college degree. Stone plans to use her earnings at the Georgia Institute of Technology where she will fulfill her childhood ambition of industrial engineering.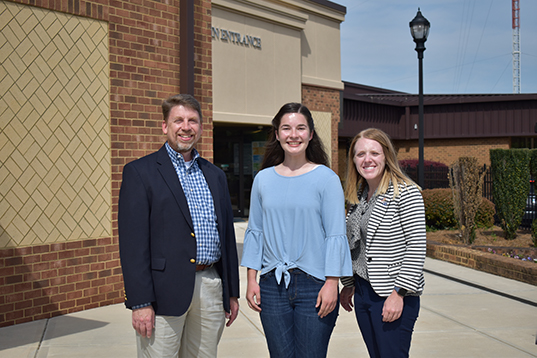 "As early as middle school, I knew I wanted to be an engineer," said Stone. "My love of problem-solving, math and science, coupled with career days and job interest assessments, confirmed my future career. I discovered that I have a mindset like an industrial engineer and enjoy tasks similar to those faced in that field.
"While attending Georgia Tech, I plan on co-oping to gain practical, field work experience," continued Stone. "During my time in college, I plan on obtaining a concentration within my field, so I am specialized and competitive in the job market. After I graduate, I hope to go back and get my master's in industrial engineering or perhaps an MBA."
The scholarship is named in honor of Walter Harrison, a pioneer in the rural electricity movement and a leader at the local, state and national levels. Since 1987, more than $236,000 has been awarded to 247 students through the Walter Harrison Scholarship fund—a sheer representation of co-ops' investments in their communities and the turn-around in its young members.
"Writing the essay for this scholarship allowed me to reflect upon how amazing it is to live in a small, close-knit town," said Stone. "Each generation influences the generation after them, so it is our responsibility, as young adults, to positively impact our communities. Being named a Walter Harrison Scholarship winner will help me go to college and return to the West Georgia area to reinvest in the community that has given me so much."
Carroll EMC is a Member-owned cooperative providing electricity to approximately 50,000 homes and businesses. The co-op serves Members in Carroll, Haralson, Heard, Paulding, Polk, Floyd and Troup counties. This institution is an equal opportunity provider and employer. For more information visit the cooperative's website at carrollemc.com or follow Carroll EMC on Facebook, Twitter, YouTube, Pinterest, Instagram and LinkedIn. Carroll EMC: Community Built. Community Builder.