Women's cycling club looking for new members
The Ladies on Spokes (LOS) cycling group will hold its annual Spin Off on Saturday, April 10, at the Seavy Park Pavilion, 252 Seavy St., Senoia.
The Spin Off is an opportunity to learn about bike safety and meet other women who enjoy cycling, hiking, and kayaking. The morning will begin with a light breakfast at 9 a.m. followed by a brief overview about the organization. Bike rides will begin at 10 a.m.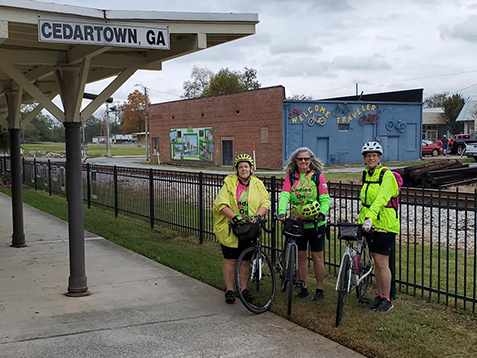 "This is the time we kickoff the riding season," says Evelyn Barella, a member of the group that is made up of all ages and skill levels. "Women tend to be social and what better place to connect with friends than on a ride. Riding with a partner is also a safe way to get out on the road by making a plan together and choosing routes that are bike friendly and match your ability level. But we also enjoy hiking and kayaking together."
The Spin Off will offer three ride options for all levels of cyclists from beginner to more advanced riders who are interested in joining the club. There will be a 7-mile ride for new cyclists, a 15-mile ride at 10 to 11 mph, and a 25- to 30-mile ride at 12 to 13 mph. Please bring your bike, a helmet (required), comfortable shorts (padded if you have them), and wear a bright-colored shirt.
"We are very supportive of women who are new to the cycling scene and want to learn more about the sport and staying fit by participating in leisure rides, as well as those who are coming back to the sport and interested in training rides," Barella said. "When you are surrounded by women who all share the same passion, it's bound to spark new friendships, which in turn prompts unwavering support and boosts confidence. We invite everyone to become part of a close-knit community and make new friends."
Ladies On Spokes is a nonprofit Christian women's club formed to promote the sport of cycling in the Coweta and Fayette county areas. If you are interested in participating in the Spin Off, please RSVP by Thursday, April 8, to Marcia Wiggers at (678) 429-0148.