Delicious and Easy Holiday Desserts You Can Fa-La-La in Love With
By Shala Hainer
The hustle and bustle of the season doesn't have to extend into your kitchen. Whether you have a houseful of guests coming over to celebrate or you need to make a dessert for a holiday potluck, wow your friends and family with tasty desserts that are surprisingly quick and easy. 
Chocolate Spoons
Bump your hot chocolate up notch with chocolate spoons. Melt semi-sweet chocolate chips in the microwave, usually at 50 percent power, stirring every 30 seconds until melted. Dip holiday-themed plastic or small wooden spoons into the chocolate to cover the stirring end, then lay them on parchment paper to dry. When your friends and family stir their hot chocolate, the chocolate on the spoons will melt and add to the sweet goodness.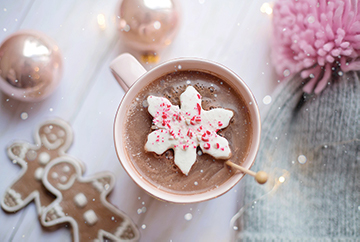 Have some fun with this one by jazzing it up with tasty additions. For example, sprinkle crushed peppermint or holiday sprinkles onto the spoons while the chocolate is still wet. Or, line three small marshmallows on the chocolate end of the spoon like a snowman – you can even add chocolate chips for eyes, buttons and a hat.
Grown-up Rice Cereal Treats
Skip the marshmallows and add an unexpected adult twist to the favorite rice cereal treats. This uses dulce de leche sauce, which you can find in the international section of most grocery stores. Take ¾ cup rice cereal, toss with a teaspoon of vegetable oil and bake in a 350-degree oven for 10 minutes. Let the cereal cool, then mix it with 1 cup of blanched sliced almonds, 5 tablespoons of dulce de leche, and a half teaspoon of vegetable oil. Spray a sheet pan with non-stick spray, then scoop large tablespoons of the mixture onto the sheet, flattening them with the back of the spoon. Bake for 15 minutes.
Holiday Fudge
While this isn't the fudge your grandmother used to make, it's quick, easy, creamy and delicious. It offers a variety of options to change it up and make it fit your holiday theme. Start by melting 12 ounces of white chocolate in the microwave. Mix it with one cup of sweetened condensed milk, which is usually a little less than a full can. Pour the mixture in a baking dish lined with parchment paper, and let it sit until cool and firm.
Instead of a square dish, try a round cake pan, but place a can or bottle in the middle of the pan first. Pour the mixture around the can – when you pull the can out later, you have a hole in the middle of the fudge, making it look like a wreath.
Try mixing flavors into the fudge for a tasty surprise. For example, add one teaspoon each of ground nutmeg, cinnamon and ginger for holiday flair. Or, add a half to whole teaspoon of peppermint extract.
Make the fudge as beautiful to look at as it is yummy to eat by sprinkling crushed peppermint on top, or by adding chopped nuts.
Sandwich Cookie Truffles
Pick your favorite sandwich cookies, and crush them in the food processor or in a zip-top bag with a rolling pin. Use about one container, which is usually 14 ounces. Mix the crumbs with an 8-ounce package of room-temperature cream cheese. Use a large melon baller or cookie scoop to form small balls of the mixture, then place them on a parchment-lined baking sheet in the freezer for half an hour.
Melt 12 ounces of semi-sweet chocolate chips in the microwave, then use two spoons to help you dip the cookie balls into the chocolate. Place them back on the parchment paper and put them in the freezer for another 15 minutes.
While the chocolate is still warm, sprinkle the tops with leftover cookie crumbs or crushed peppermint. Try dipping some in melted white chocolate, too, to add variety.
It's best to keep these refrigerated until you're ready to serve them – don't worry, they won't sit out of the fridge for long before they are all gone.